TelePlastics™ - Virtual Plastics Experts at your Service
Our TelePlastics™ support service is a safe and secure remote solution, for the diagnosis and recommendation of plastic solutions, by our experienced Technical Service staff, utilizing the latest in telecommunication technology.
With the challenging times we are facing, concerning the current COVID-19 pandemic, our Technical Support Team stands ready to assist with your application questions related to your plastic material, machined or injection molded plastic parts requirements. Bring our Technical Experts onsite to look at your applications or discuss your material or part supply requirements using our TelePlastics™ support service.
Safe Onsite Technical Support
More Effective Than a Phone Call or Email
Plastics Experts On Call When You Need Them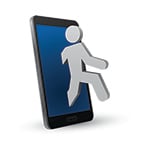 TelePlastics™ is a trademark of Boedeker Plastics, Inc.